Blumaroo are joyous creatures that find the upside in life through every situation. They are unresistably adorable as well, so how could you not adopt one?
Pronunciation
Singular: BLOO-muh-roo
Plural: BLOO-muh-roo
Appearance
Blumaroo have large ears and a big nose, although their heart is bigger. The balls of their feet are shaped like hearts, and they have a somewhat large stomach, and as they occasionally walk on their feet, almost always they hop on their tails to walk around.
Homeland
The homeland for Blumaroo is Roo Island, an island connected to Neopia Central by a rainbow thats leads from The Rainbow Pool to the castle on Roo Island. The land itself is ruled by King Roo, a peppy king that is a good leader to Blumaroo all over Neopia.
Famous Blumaroo
King Roo
Count von Roo
Aristotle A. Avinroo (AAA)
Roothless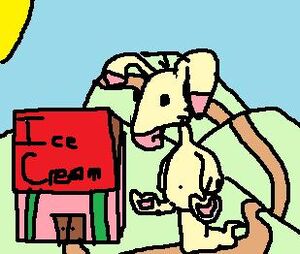 Ad blocker interference detected!
Wikia is a free-to-use site that makes money from advertising. We have a modified experience for viewers using ad blockers

Wikia is not accessible if you've made further modifications. Remove the custom ad blocker rule(s) and the page will load as expected.